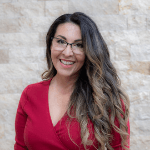 About Michelle
Michelle Fuentes-Miranda is a community leader and youth development professional with over 25 years of experience as a teacher, school principal, youth program director, and nonprofit administrator. She founded the Alliance for Community Empowerment in Canoga Park, California, and has served as its President since 2013. In this role, she has significantly expanded the array of services available to high-barrier youth in the West San Fernando Valley and has been regionally and nationally recognized for leadership and service in effectively meeting the needs of the community. She has also played a significant role in bridging relationships amongst a range of business, government, community groups, and organizations active in civil activism, public safety, and human services, and civic engagement.
Michelle is the grandchild of migrant farmworkers who became successful business owners and community leaders in California's Central Valley. Inspired by the spirit of service and entrepreneurialism demonstrated by her grandmother, Michelle founded Alliance for Community Empowerment (ACE) to help disenfranchised young people transform their lives and their communities through leadership development, education, and civic engagement. It began operations as the West Valley's only program providing high school education, job training, leadership development, and supportive services for young people from high-risk environments. A short time later, ACE expanded its programming with support from the Mayor's Office of Gang Reduction Youth Development, providing community intervention and case management services for gang-affected families in the city's largest GRYD service area. ACE continues to expand its services to meet a wider range of community needs through collaboration, service, and community action. Since 2013, over 750 young people have come through its doors to find the resources and support they need to effect meaningful change in their own lives and in the life of their community.
Michelle is a member and the current President of the City of Los Angeles Canoga Park Neighborhood Council and chairs its Homelessness Solutions Committee. Her service on the Council has opened new opportunities for citizen engagement and has helped to focus awareness of local needs both in the community and in city government. Michelle is a founder of the YouthBuild Collaborative of Southern California and serves on the Advisory Council for the California State University Northridge Neighborhood Partners in Action. She has served as a board member of the Canoga Park/West Hills Chamber of Commerce. She has spoken at conferences across the United States on topics related to Youth Empowerment, Community Collaborating, and Staff Retention. She has also made an international impact through her consulting work with youth organizations in Central America.
Awards & Recognition
Among her honors, Michelle has received:
Woman of the Year 2019 (California State Assembly – 45th District)
Human Rights Award 2018 (California Association of Human Rights Organizations)
Pioneer Woman Award 2016 (County of Los Angeles)
Cover Story Exito Latino Magazine December 2016
Impact Maker Award 2016 (City of Los Angeles)
Inspirational Woman of the San Fernando Valley 2015 (United Chamber of Commerce),
YouthBuild USA Rising Director Award – 2012
Through Michelle's tireless dedication ACE has become a well-known and respected pillar of the community. This bond with the community has only become stronger through the pandemic of 2020, with ACE's GRYD team becoming critical in supporting the myriad of issues arising from long periods of isolation. but 2020 has also brought bigger changes as ACe moved to a new home, all guided and directed by Michelle's expert stewardship.